Moroccan chicken tagine or stew, with preserved lemons and olives is a truly delicious and globally loved. A glorious twist on this classic includes adding artichokes, which takes this bright and tangy stew to the next level. I'm really drawn to Moroccan food in the same way that I'm attracted to Thai and Persian cuisines. There's something about how each of these glorious cuisines mix and balance flavors that's just magic and result in truly soul-satisfying dishes.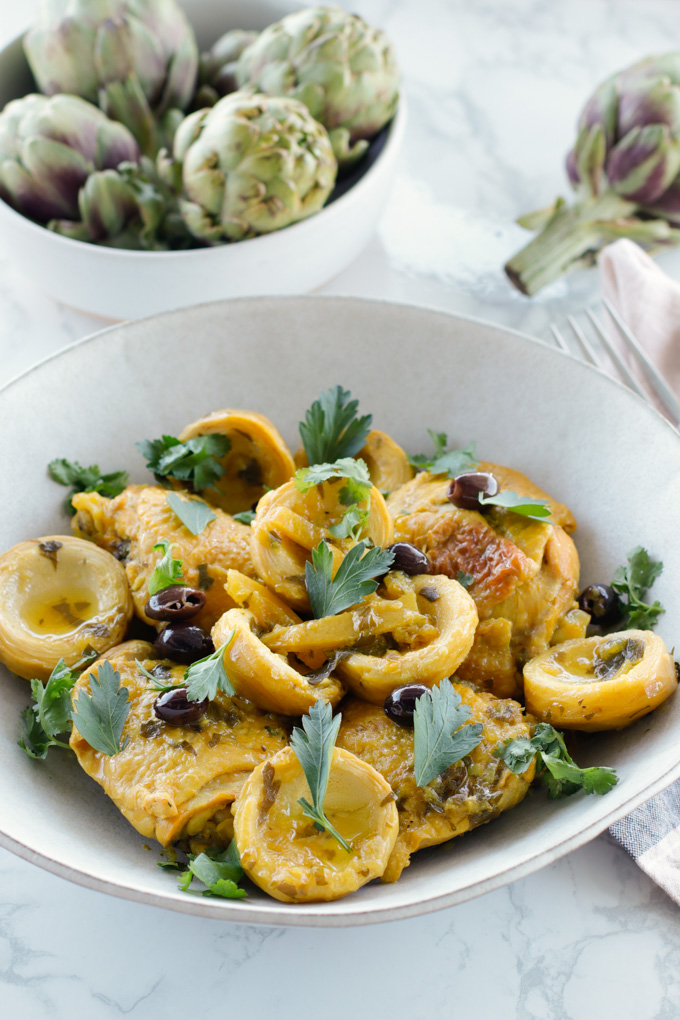 Currently in Northern California we're at the height of artichoke season and have an amazing variety to choose from. If that's not the case where you live, not to worry because this tagine works really well — maybe better — with canned or frozen artichoke bottoms.  And the bonus of using canned or frozen artichoke bottoms is you don't have to clean the artichokes, which is not an easy task. I ended up using the fresh artichokes as a centerpiece (and then grilled them later that week, recipe to come) and opted for my favorite brand of canned artichoke bottoms, Maria's, which I get from Whole Foods, when making this dish.
The other key ingredient is preserved lemons, a staple in Moroccan cuisine. Luckily, more and more grocers are carrying them. I use brands I find at Whole Foods or Trader Joe's. Preserved lemons are so versatile and are a great addition to a multitude of chicken and seafood dishes. Melissa Clark, in her book Dinner: Changing the Game considers preserved lemons a pantry staple and says that they add a "zesty, saline and slightly musky flavor anywhere you use them." If you'd like more inspiration on how to use to incorporate preserved lemons in more of your dishes, check out The Kitchn's awesome suggestions.
This recipe was inspired by Claudia Roden's book Arabesque, which features the cuisines of Lebanon, Turkey and Morocco. My great friend Mike gave me this book the year it came out for my birthday and I reach for it often when looking for ideas or just feel like immersing myself in the many fabulous places and cuisines Claudia writes about.  Her books span the globe and always give me a sense of connection with the people, culture and history — as well as the food and I love that. That's really at the heart of why I cook — it's a way for me to explore new cultures, gain an appreciation, and expand my horizons.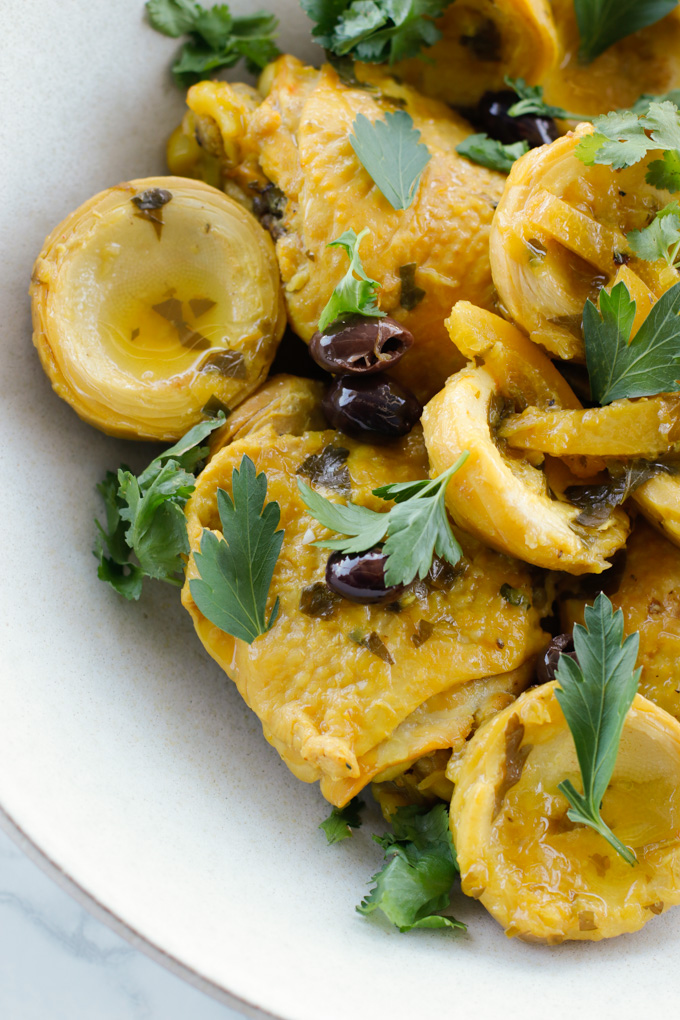 This stew is the definition of comfort food, great for any season and makes a great centerpiece when cooking for a crowd. The brightness of the lemon and the artichokes makes it perfect for summer. And trust me, even your less adventurous friends will love it.
Print
Moroccan Chicken with Artichokes, Preserved Lemons and Olives
This recipe is inspired by Claudia Roden's book Arabesque.
3

T extra virgin olive oil

1

large onion, very finely chopped

2

garlic cloves, crushed

1/2

t crushed saffron threads

1/2

t ground ginger

6

to

8

bone-in chicken thighs

12

artichoke hearts, fresh, canned or frozen
salt and pepper

1/2

lemon, juiced

2

T cilantro, roughly chopped

2

T flat-leaf parsley, roughly chopped
peel of

1

large or

2

small preserved lemons, peel cut into strips

12

–

16

Nicoise olives
Instructions
In a large Dutch oven that can hold all the chicken pieces in one layer, heat the oil.
Add the onions and sauté, stirring over low heat  until the onions are softened.
Add the garlic, saffron and ginger.
Put in the chicken pieces, season with salt and pepper and pou in about 1 1/4 C water.
Simmer, covered turning the pieces over a few times and adding a little more water if it becomes too dry. Simmer for about 40 minutes.
Lift the chicken and put the artichoke bottoms in the sauce beneath the chicken.
Now add the lemon juice, the chopped cilantro, parsley, the preserved lemon peel and the olives.
Simmer uncovered for 5-10 minutes, until the reduced sauce is thick. If there is too much liquid, remove the chicken pieces and set aside while you reduce the sauce further, then return the chicken to the pan and heat through.
Serve the chicken on a serving dish with the artichokes, olives and lemon peel on top of the chicken.